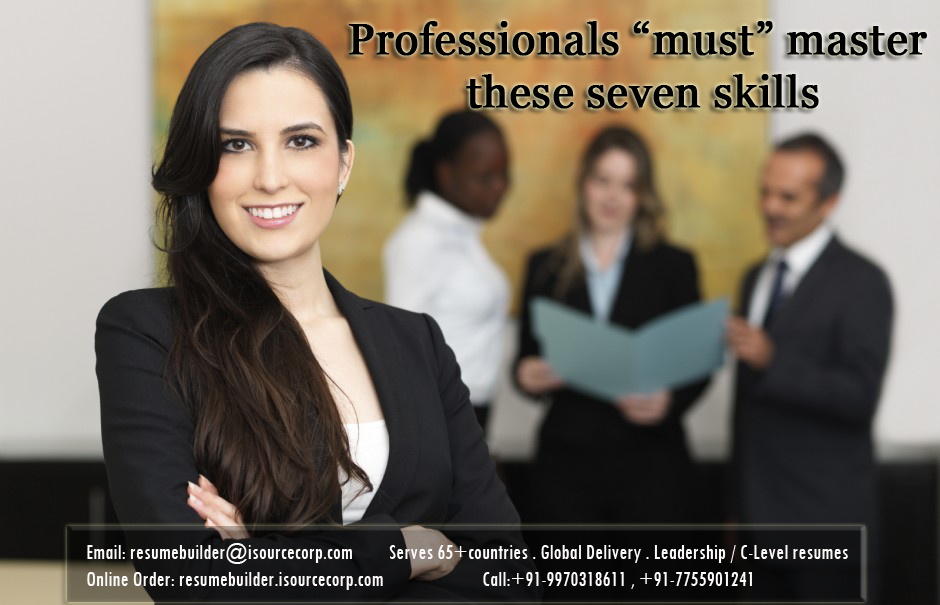 Professionals "must" master these seven skills
What makes you a good professional? You may think of several abilities that are apt for your domain and have always been enhancing your worth in the job-market.
The answer is in the skillset that is desired from every professional, irrespective of the industry you belong to. This are the basic skills that will help you perform better and better. You must possess these skills to succeed at every stage in your professional career and reach the top. These skills will help you develop a productive and fruitful career.
There are several experienced professionals, like you, who are lacking in at least one of these skills:
Communication is the base of every relation :
Your success strongly depends on how you communicate and what you communicate. The confidence and effectiveness matters the most when you speak with someone. Even if you are an introvert, you should be capable of communicating, as and when required. Being an extrovert gives you an added advantage of openly talking to people, however, it is very important to communicate only and as much required. Many a times, it happens that we elaborate a concept/ topic which is meaningless.
Network and connectivity :
Before you relate this to your cellphone and start wandering, please understand that we are referring to networking and building connections. This is another crucial skill; even if you are an excellent communicator, it is of utmost importance to increase your professional/ social network and sustain these connections. Please note networking is much more than handing out your business card at an event or at a similar occasion. You can always begin with a helping hand; apprise people on your background and then ask them how can you help? Thus, you will highlight your current doings and also build a connection.
Do all this with immense confidence and eye contact, to make a powerful impact.
Resume & Cover Letter Write-up :
We all may not be good at writing, however, at some point we need to write may be an email, letter or even own resume. It is very crucial that you understand yourself and your professional history and also are capable of exhibiting the same in a coherent manner. You can read our previous articles, to understand the resume writing and the common mistakes that can be avoided. If you still lack confidence, then remember, we at Resume Builder are available for you to give you a leg-up to write your resume and your cover letter.
Facing the interview :
For sure this has been a tricky one, when you enter a room wherein you know that people are ready to judge you for everything and even question you. It this time you are full of anxiety, nervousness and even low confidence, this all is obvious. This complexities can go-off only when apt preparation and practice, and the most important the knowledge to answer the questions, correctly. Additionally, you can also read and practice a handful of psychological tricks that can help appear smart and confident.
Significant "do" – Send a thank you email to the interviewer/ hiring manager and also add the points/ topics discussed in the interview. This will remind them of your professionalism and ability to grasp and understand things.
Decisions :
Being in a new or a settle job, the decisions that we make, shape our career. Infact, decision making is a common skill that we need to master in our daily lives. As we know "life is happening everyday", and it is changing by every decision we make. In our professional lives, it matters the most, as we deal with different people from different background. When we say decision-making, it is not just managerial decision-making process, it is even about with whom you should have lunch with, seek help and also assignments from etc. At this point in time, when you understand yourself and the significance of your decision, it will start aligning with your desires. This will also bring in enhancement to your skillset and even newer growth opportunities.
Leadership :
Now that you are in an organization, you need to know and showcase your leadership quality. For this, you need not necessarily be a leader/ boss with subordinates, instead you can flaunt these skills to attain that position. As the renowned writer Robin Sharma says "Leadership is not about a title or a designation. It's about impact, influence and inspiration. Impact involves getting results, influence is about spreading the passion you have for work, and you have to inspire the team-mates and customers."
Thus, as a team member your influence, passion and inspiration can evoke a change within the team.
Balancing your personal and professional life :
We have surely read it several times that you will never remember the presentations but the quality time spent with your loved ones. This is termed as work-life balance. Our commute, stressful work and never-ending meetings take a heavy toll on our personal life. We sacrifice a lot of our personal time for all this, for earning and living for a weekend. This is the most common struggle that every employee goes through. If you are also stuck in such scenario, take the charge of your professional life, try to minimize your commute, learn or invent some skills to finish off a tedious task in shortest time and make precise points for the meeting. All this and similar other changes will give you a desired breather for your personal life even on weekdays.
As mentioned above, we all lack in few or most of these skills and need to master this to make our professional as well as personal life a success. Remember, it's not too late and you can still bring in a change in your life. We also encourage you to take external trainings that will hone your communication, decision making and leadership skills. These trainings will offer you a platform to meet new people, boost your network and most importantly, gain confidence of public speaking.
We are confident that our article will make a difference in your life. Wish you success for all your future endeavours!
E : resumebuilder@isourcecorp.com
Line 1 : +91-9970318611
Line 2 : +91-7755901241