Resume writing for Sr. Executive Leadership / CXOs / Global C-Level Execs.
STRATEGIZE . INSPIRE . LEAD . IGNITE . TRANSFORM . EMPOWER
·­  C-SUITE RESUME WRITING  ·  LINKEDIN PROFILE UPDATE  ·  VISUAL RESUME  ·  COVER LETTER
Personalized Tele-interview |Expert Writing Panel | Deep Domain Expertise | Bespoke (Role/Position based) Output | Thorough Requirement Gathering Process | Global Writing Experience | Recruitment Based Approach
Expertly Written Customized resumes /CVs / profiles / bio that creates a personalized brand for Sr. Executive Leadership/ CXOs /Global C-suite exec./CEO/CTO/CIO/Senior Leadership
Executive Leadership / C-Level resume writing for the world.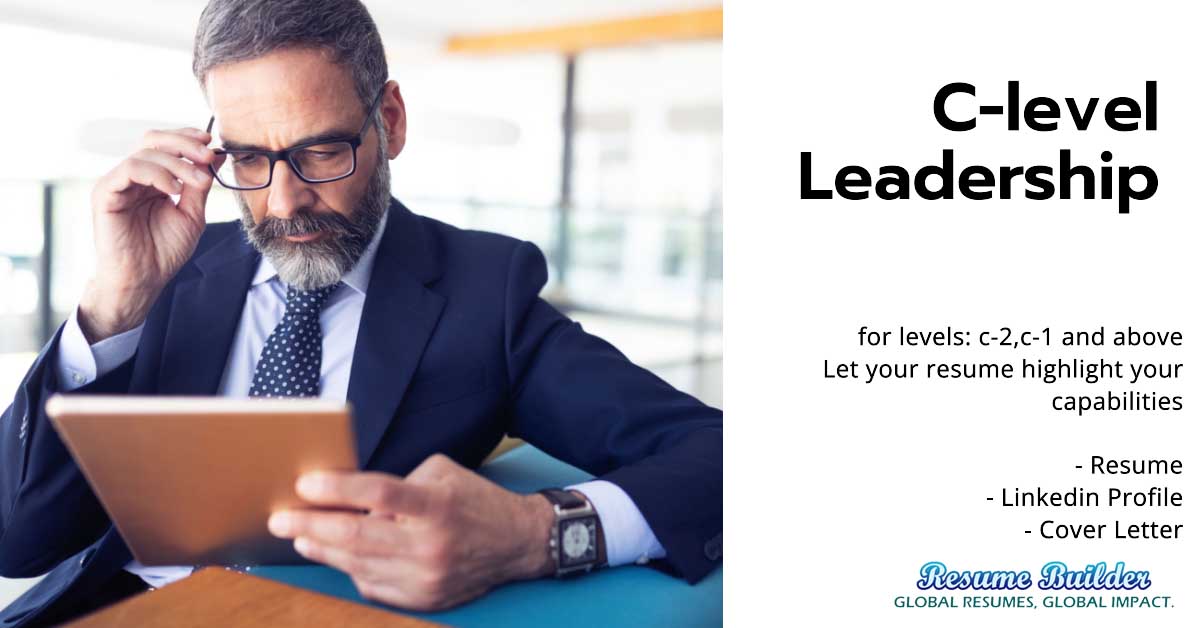 100% Guaranteed Confidentiality
Served 95+ countries
Serving all Executive Leadership levels:

Board Positions / CXOs / Directors / Chairman / MD / CMDs and similar positions

Commitment to excellence
Dedicated Account Managers
Bespoke Writing and Re-writing with thorough Requirement Gathering
Unlimited Edits¹ with client satisfaction guarantee²
Over 14 years of global experience
Experienced Team of Writers
Extended support and delivery assurance
Global Resume Writing Experience
Customized Resume Writing for Global Executives
Iterative Editing
¹ ² subject to Terms of Service and Fair Use Policy
For customized quote & bespoke career solutions and services.
Roles: CXOs (CEO/COO/CTO/CIO etc.) , MDs, Directors, National Heads/ Category Heads, Functional Heads, Profit Center Heads, SBU Heads or similar level.
Charges mentioned are indicative and can increase depending upon scope of the assignments.
We accept GooglePay / PayTm / PhonePe / Wire-Transfer / UPI / PayPal and other payment options available. Visa / Mastercard accepted. Contact us for International Payment options.
For International Cards payment, You will be charged in your local currency, Currency exchange rates keep changing vis-a-vis INR and are therefore charged per the prevailing rates in the respective countries. USD prices are indicative and not exact. You can pay using our payment gateway to purchase using your local card in your country. Charges are converted in your local currency while settlement. Please contact us for more details.