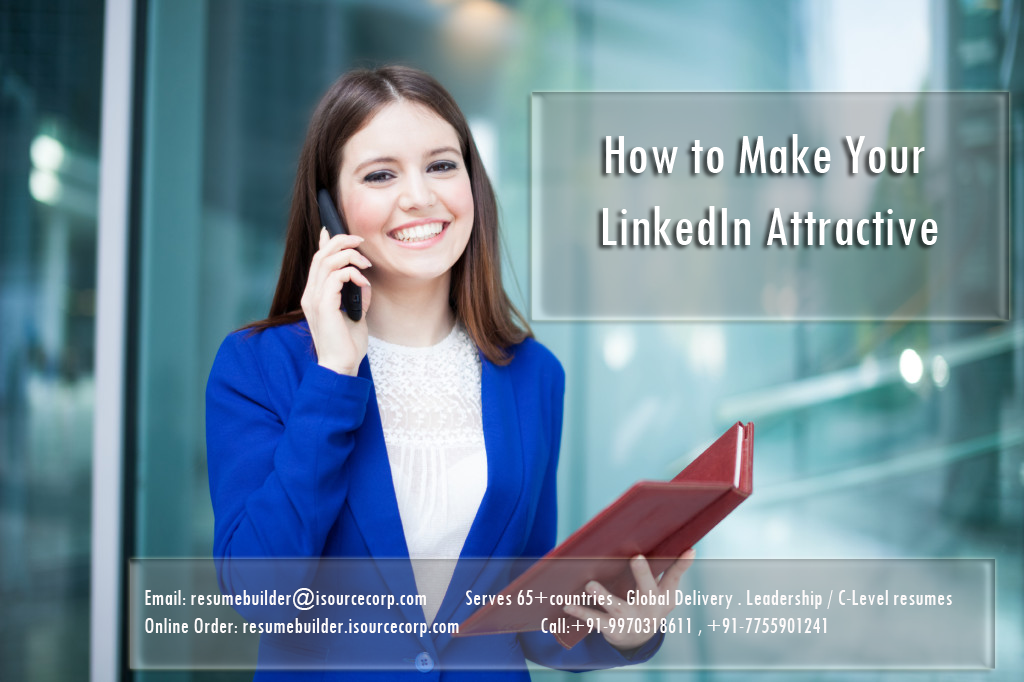 How to Make Your LinkedIn Attractive
With over 400 million people on the network, LinkedIn is quickly gaining popularity to connect with people from the professional arena. More and more people are joining LinkedIn to connect with people in similar or new line of work, to share views, ideas, and best practices. As digitization takes over, companies are turning to the internet to search for suitable candidates. They no longer have to contend with local talent, as the internet allows them to search from a global, wider pool of talent with more skills suited for the job.
Incidentally, LinkedIn has also emerged as a new platform for hiring managers to scout for potential candidates. And it's not just the smaller ones, the big guns are also all-out on their candidate hunt on LinkedIn. This is quickly becoming more and more attractive since LinkedIn has turned out to be quite an economical means to advertise jobs and search for candidates, while simultaneously creating a global footprint for the organization. There's basically zero cost of global job advertising, and a much better chance of finding the right fit for the job.
Which is why there is an increasing emphasis among professionals to brush up, improve, and enhance their online presence on LinkedIn, to make them stand apart from the myriad of people looking to get a job. True, a good profile offers a much better chance of getting selected for an interview, or at the least, reviewed by a hiring manager rather than a nearly empty or irrelevant profile. This is not to say that filling up the profile with too much content would generate better responses, but yes, an adequately presented LinkedIn presents more opportunities than a non-existent profile.
As mentioned earlier, a LinkedIn profile does not need to be content-heavy to put the point across. A good LinkedIn profile is as much about representation, as it is about content. Through this article, we aim at decoding the factors that contribute in creating a LinkedIn presence that not only amplifies the interest in your profile, but also serves as a succinct online resume that you can readily use to apply for jobs.
Content Quality
First and foremost, a LinkedIn needs to be a career summary and not an autobiography. This means that you need to strictly filter the amount and type of content that goes into a LinkedIn, since this is a public profile, and many people can access it. Include highlights of your responsibilities and career for every section, rather than simply copy-pasting your resume on to LinkedIn. This gives the reader (in this case a potential recruiter) sufficient information to initiate contact with you, while at the same time leaving room for detailed queries for your role at an interview. Too much information simply puts off a reader into going further into your profile. Lastly, the content should be grammatically sound with no scope for errors.
Important Sections
This varies from individual to individual, but on a broader perspective, an ideal LinkedIn should have the following sections completed: Headline, Summary, Experience, Skills, and Education. A good headline should be an indicative of what your key skills are, rather than simply putting up your recent designation. That is way too lazy. Similarly, the Summary and Experience section need to be completed with qualitative content, and as stated above, should give away information sufficient for a recruiter to get in touch with you. The skills section need to have your core expertise areas in the form of relevant keywords, and not phrases or sentences. For experienced people, it is ideal to include more of job-related skills as opposed to soft skills, since the latter is implied. For freshers, it is recommended that more of soft skills be included to showcase their abilities to quickly adapt to surroundings.
Approach
An approach in creating content for LinkedIn is equally important as the representation and content quality. How you wish to portray yourself plays a key role in defining peoples' view of you. A good LinkedIn profile would ideally represent you, instead of the organization you are working in, and do so in a slight story format. For this, you need to select your point of view – that is, the first or the third person. While a first-person account is deemed as more realistic, a third-person view is considered unbiased. It is recommended that freshers use the first-person stance, entrepreneurs use a third-person stance, while an experienced professional can choose between a first or a third-person approach. Another aspect to this is representation. Paragraph style, Bullet style, or a mix of both can be employed, depending upon the experience level, to maintain content coherency and information flow. Again, for a fresher, it is recommended to use paragraph style of writing, to make the profile appear to have some volume, while for an experienced professional, any of the three approaches can work.
Special Sections
These needs to be completed in case of special profiles. The sections under this include the other options on LinkedIn, such as Courses, Projects, Volunteer Causes, Organizations (for memberships), Publications, Posts, etc. These sections are mostly for enhancing a profile and adding value.
LinkedIn Recommendations
Recommendations serve like a virtual review of your performance to a potential recruiter. Remember how when you look up an e-commerce website to buy something, you always look for the reviews? That is identical to how LinkedIn Recommendations work. A good LinkedIn recommendation should ideally have specific information to depict your skill areas, while being human and realistic at the same time. Additionally, another aspect of recommendations is a healthy balance on the reviews you're getting. Too many reviews as against the number of connections, or too less compared to your overall profile connections, both raise concern and are potential red flags. To avoid this, either restrict your connections to people you know, or have recommendations from people you have worked for or with. This contributes a lot in establishing the genuineness and honesty of the reviews, and is a win-win for you as well.
In the end, a good LinkedIn profile will go a long way in uncovering new and exciting opportunities and avenues for you.
Author
Amrita Kolay