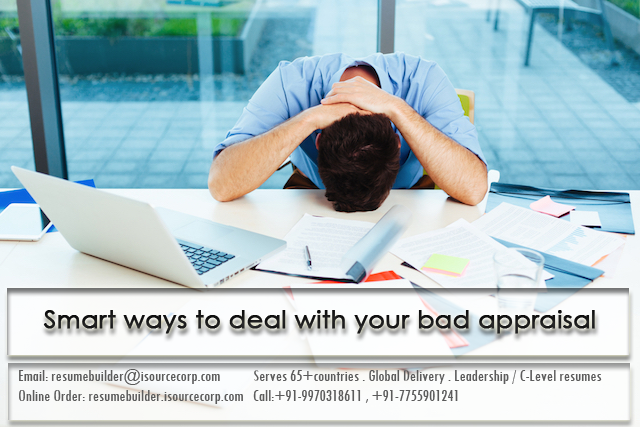 Smart ways to deal with your bad appraisal
 "A bad system will always beat a good person every time" W. Edwards Deming, the American engineer, statistician, professor, author, lecturer, and management consultant.
Deming's quote relates to your professional life-story? Is your professional life hinting at "quit" because of that bad, very bad appraisal?
Read on to find out the healing processing of such appraisals
We, at resume builder, have jotted down five ways to deal with such unwanted/ unexpected events in your professional life.
This is what you are required to do now –
Keep calm, because this is not the end!
While we understand that you worked hard to bring in desire results, however, this is not the end of your world. There will be negative emotions and also self-criticism, we suggest, see above this. All you need is the self-confidence, remember your hard work and the appreciations that you bagged. Getting angry or even showing anger to your manager/ higher-up will only worsen your situation, so don't do that.
Precisely, accept this appraisal and stake calm. That's the ideal first step.
Now assess yourself!
You will wonder why? Self-assessment is essential here to determine and understand if this has happened before – Yes? See through if it's the same reason that crashed on your dreams even this year. If no, then examine the probable reason; discuss with your manager or the one who rated you, to understand their side of the story. Having done that, now it's time to take some learnings from this appraisal.
You may not want to work in the same organization, under the same boss, however, you need to carry these learnings everywhere. This bad patch will remind you what to avoid in future and if you efficaciously handle it, you will emerge as a winner.
Thus, assess yourself, learn and carry forward.
Discussions!
Request your boss for a discussion on the appraisal, so you can see both the sides of the coin. Like we all blame it "politics" in the corporate world, however, in this discussion, your boss will have to elaborate your appraisal and performance of the past one year. There is a high possibility that you may have to face negative remarks and criticism, but don't get bogged down with this. This is a healthy discussion to measuring the depth of your performance. You can also question your boss what the right things you have done and you do it more frequently. Additionally, if you feel, your boss is being too negative about your work, just correct them whenever required. Examine yourself through SWOT analysis of your performance of the last one year. Ultimately, resignation/ job change is not the only solution.
Plan your actions, NOW!
Once out of the meeting room, take some time to understand and decide what should be your next step. These questions may help you –
To what extent boss was right?
If yes, then how should I improve?
If no, do I want to work under him?
Or am I ready to move to another project/ department or search a new job?
If you are convinced that your performance was the core reason for this bad appraisal, then start focussing on the improvements. Plan and master very assigned task, deliver your best. You can also take help of your colleagues or your boss in improvising your performance.
Contrastingly, if you disagree with your boss and want to part-ways, we advise you to wait. You should stay in this job if you have a meagre experience of one-two years. In any case, "quit" is not the solution for this problem. However, as an experienced professional, you may commence your job search.
Meet your boss, meet frequently!
If you have decided to work hard and dedicatedly, you need to meet your boss at least once a month to discuss your performance. This meeting should be conducted exclusively to gauge your performance and measure the accuracy or rightfulness in the tasks performed. Another benefit of this meeting is that you keep improving, monthly and not when you encounter a disheartening appraisal.
Life is big!
Having dealt with this appraisal, now remind yourself that you have it enlarge your professional picture. This can be done through your performance, development of skill set and so on. So start working on it, and start today. Let this appraisal be the one and only bad patch in your professional history, which you rectified and moved ahead.
We hope we have victoriously healed your wounds and charged you up for that best Employee trophy.
However, if you still want to quit your current job, remember, we at Resume Builder are happy to help you with best resumes. Connect with us on:
https://resumebuilder.isourcecorp.com/contact-us/
E : resumebuilder@isourcecorp.com
Line 1 : +91-9970318611
Line 2 : +91-7755901241
Author:
Renuka Dabhade